The Lowry Team Is Everywhere!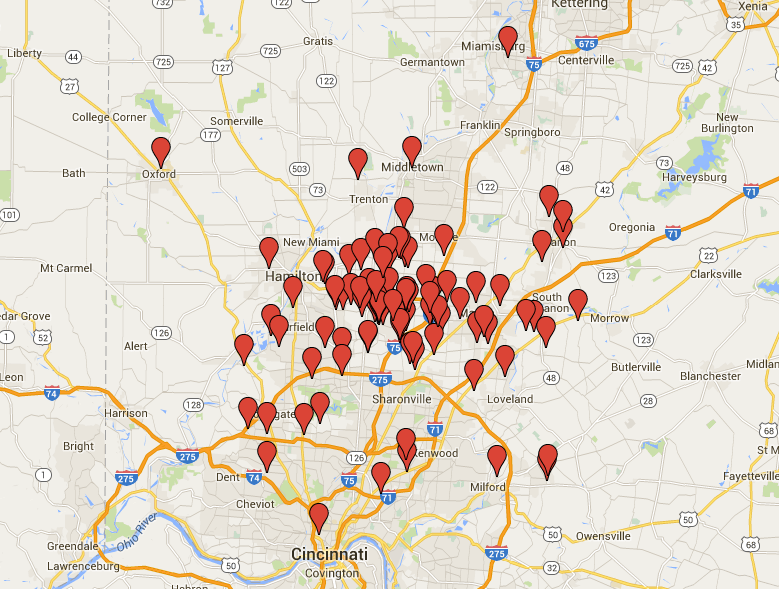 The Lowry Team has helped 100's of families throughout the Greater Cincinnati area buy, sell and invest in real estate over the last 18 years.

Are you thinking of buying or selling a home? Who you work with matters!

Call or Text Eric Lowry Direct: 513-368-3751

The Lowry Team has the experience it takes to navigate today's real estate market.

Don't just take our word for it. See what our past clients say...
We are a team of specialists. We have agents that specialize in selling listings, we have agents that specialize in assisting home buyers find that perfect home, we have a full time contract to close coordinator to insure a smooth transaction and the best technology tools and marketing strategies available. Meet our team...
Eric Lowry & The Lowry Team / Keller Williams Realty Associate Partners |
About The Lowry Team
|
Read What Our Clients Say!
|
www.CincyHomeValuesNow.com
4208 Fawn Crossing Dr, Mason, OH 45040
Listing Provided By: Eric L Lowry of Keller Williams Realty Assoc (513-368-3751)
4208 Fawn Crossing Dr, Mason, OH 45040
Listing Provided By: Eric L Lowry of Keller Williams Realty Assoc (513-368-3751)
3783 Riva Ridge Dr, Fairfield Twp, OH 45011
Listing Provided By Eric Lowry of Keller Williams Realty Associate Partners
3783 Riva Ridge Dr, Fairfield Twp, OH 45011

Listing Provided By Eric Lowry of Keller Williams Realty Associate Partners
424 Doverdale Dr, Monroe, OH 45050
Listing Provided By Eric Lowry of Keller Williams Realty Associate Partners
424 Doverdale Dr, Monroe, OH 45050

Listing Provided By Eric Lowry of Keller Williams Realty Associate Partners
3647 Thorngate Dr, Mason, OH 45040
Listing Provided By: Eric L Lowry of Keller Williams Realty Assoc (513-368-3751)
3647 Thorngate Dr, Mason, OH 45040
Listing Provided By: Eric L Lowry of Keller Williams Realty Assoc (513-368-3751)
5806 Roberts St, Fairfax, OH 45227
Listing Provided By: Eric L Lowry of Keller Williams Realty Assoc (513-368-3751)
5806 Roberts St, Fairfax, OH 45227
Listing Provided By: Eric L Lowry of Keller Williams Realty Assoc (513-368-3751)
2521 Mack Rd, Fairfield, OH 45014
Listing Provided By Eric Lowry of Keller Williams Realty Associate Partners
2521 Mack Rd, Fairfield, OH 45014

Listing Provided By Eric Lowry of Keller Williams Realty Associate Partners
2050 Cedarville Rd, Goshen Twp, OH 45122
Listing Provided By: Beth A. Brown Ciul of Keller Williams Realty Assoc (513-850-4797)
2050 Cedarville Rd, Goshen Twp, OH 45122
Listing Provided By: Beth A. Brown Ciul of Keller Williams Realty Assoc (513-850-4797)
7366 Tamarron Pl, West Chester, OH 45069
Listing Provided By: Beth A. Brown Ciul of Keller Williams Realty Assoc (513-850-4797)
7366 Tamarron Pl, West Chester, OH 45069
Listing Provided By: Beth A. Brown Ciul of Keller Williams Realty Assoc (513-850-4797)
5332 Carriage House Blvd, Liberty Twp, OH 45011
Listing Provided By: Vicki M. Sylvestre of Keller Williams Realty Assoc (513-967-0756)
5332 Carriage House Blvd, Liberty Twp, OH 45011
Listing Provided By: Vicki M. Sylvestre of Keller Williams Realty Assoc (513-967-0756)